A recently conducted research shows that there are 3.8 billion email users in the world. From these, pretty much any person that you want to get in touch with, you can do so via cold email.
What is Cold Email Marketing?
As per Wikipedia, A cold email is an unsolicited e-mail that is sent to a receiver without prior contact. It could also be defined as the email equivalent of cold calling. Cold emailing is a subset of email marketing and differs from transactional and warm emailing.
How to cold email a potential client or for sales is the prime focus of every businessman who is looking for making new business relations.
Cold emailing is considered to be harder than most of the communication as you have no relationship with your audience yet, and you lack non-verbal feedback, so you can't modify your approach in real-time. As a result, most of the cold emails fail with no response.
'Cold emails don't work' has become the usual prevalent thought among the businessman.
But they can work well if properly crafted considering all the underlying important factors.
Most of the business owners think that cold email is dead. But, the ones who know the intricacies of this medium, they understand the fact that cold email conversion rates can be higher and it delivers the highest ROI as compared to Social Media, Paid Search and Affiliate Marketing.
As per the research by Oberlo,
For every $1 spent, email generates $32 in ROI.
The average email open rate is 20.81%.
And emails with personalized subject lines generate 50% higher open rates.
Sending three abandoned cart emails results in 69% more orders than a single email.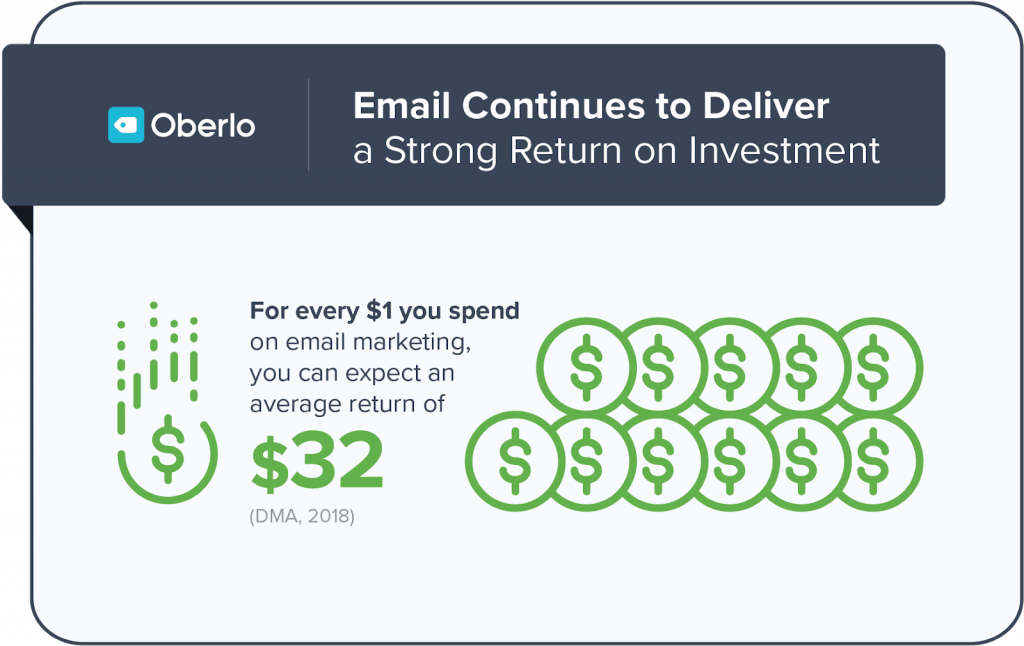 Cold marketing is inexpensive yet it allows you to increase your network and generate more sales.
A lot of people are unsure about cold emailing, because of several reasons –
They fear their email will end up landing in a spam folder.
They fear to waste the valuable time and resources that they have invested in creating the emails if no response comes.
They are not sure about the return on investment cold emailing can provide.
Now, when it comes to writing cold emails, the authenticity of the content, subject lines and the intent of the writer for the prospect are of utmost importance. Without this, the readers head to the delete button before even they have opened it, just by reading the badly written subject line.
A study from CB Insights shows how do most terrible emails start.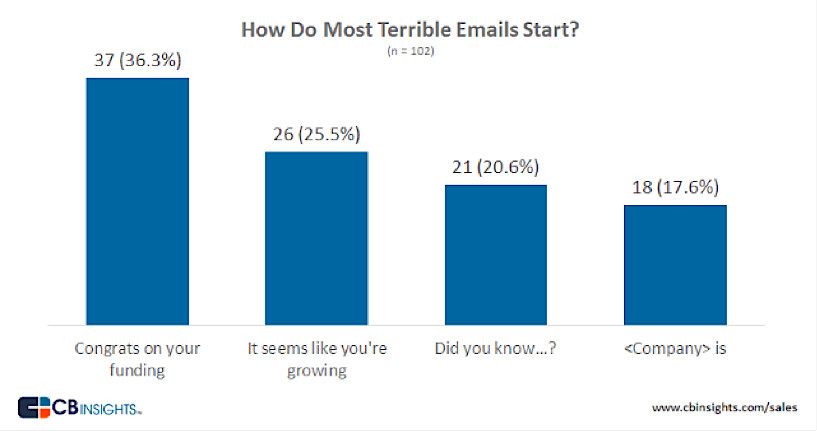 Are Cold Emails Legal?
Although most sales representatives don't send emails with the intent of spamming, the line between the email spam and legitimate cold email can sometimes seem a bit fuzzy.
Let us understand this thing straight, it is not illegal to send cold emails to potential prospects that you have never communicated with.
This type of communication falls outside the legal gray area.
Now, lets come to our original question – "Are Cold Emails Illegal?".
The answer is 'Yes' as long as you follow the acts and regulations like CAN-SPAM, GDPR, etc.
Understanding the Psychology of the Customer
Before diving straight into cold email blasts without taking some time for understanding the psychology of the customer may prove fatal for you.
This is the main reason why many cold emails are tagged instantly as spam or deleted.
A specific cold email written in such form is mostly poorly written, selfish, non-targeted and without any prior research.
So, in order to understand the psychology of the customer, some important key points to be considered as below:
Consider the Emotional Aspect of the Human
You should always remember that you are engaging an individual first, before any corporation.
An individual human has hopes, fears, and emotions.
The decision-making process greatly involves these emotions.
The logic to be understood here is that people buy with emotion.
You should be able to explain the customer in simple language why and how your solution is going to solve his problems.
This will help them to make an emotional connection with you.
Understand Your Customers' Work Cycle
Your customer may fall into a category where he could be a top management level person with millions of daily scheduled tasks.
Now, think about this.
Why he should care to open any cold emails being sent to him? Is this his priority work?
What kind of cold email would make you respond if you are in the same position?
Hence, it is important to understand what your customers' daily work cycle is and how your cold emails can be a fit in this work cycle.
You just need to update your approach for cold emailing by following cold emails best practices as below:
Step 1: Identify Your Ideal Customer
This is the first crucial step, to begin with.
You should only target the individuals or organizations that could benefit from what you are trying to sell.
You should take their demography and location into consideration before deciding to email them.
This activity will help you to narrow down your audience to a greater extent.
The next step is to identify the right persons in the organization who is capable of taking decisions and make genuine connections with them.
If they don't resonate with you, you can look elsewhere for better prospects.
You can use LinkedIn to find such prospects in a better way.
Step 2: Identify Pain Points of Your Customer
After you have identified your ideal prospect, think about what could be the things that the customer is concerned about the most.
Try to analyze their pain points and how you can deliver your solution on it. For this, you need to do some basic research about them.
Step 3: Find Your Prospects' Email
Now you are ready to grab your prospects' emails.
There are some tools which can help you to do it. Start by installing Free Sales Navigator Gmail extension from LinkedIn.
This tool will help you to explore the prospects' profile data right in Gmail account with their other information.
In case it won't work, you need to find it through other social mediums.
Step 4: Tailor the Message to the Recipient
You need to do proper research before doing this.
You need to personalize the email in such a way that it should reflect your thoughts about who the person is, how they see the world, what interests them and their needs.
This will show them that you have put effort into understanding them.
You may have an agenda going on in your organization that you want to share in the emails, but always make sure that your cold marketing emails are directed towards the needs of the customer.
Make sure the language of the email is clear and calls out to the receiver about the possible benefits to be had by collaborating with you or trying out a particular service designed for their benefit.
Step 5: Eye-Catching Subject Line
As per reports, only 35 percent of email recipients open an email based on the subject line alone.
Cold email marketing often depends on the first line of your message, which is the subject line.
Cold emails subject line should appeal to the recipient, but it should never oversell your service or product.
It should also be under fifty characters and ideally contain six to eight words.
This will allow the recipients to fully go through the subject and understand what is on offer.
An email should never be sent without a subject as these often don't get opened.
Step 6:

Validate Yourself
Imagine some stranger calling you on the phone.
We want to know who the person is and why it should matter to us.
Your prospects don't have information about you.
You need to show your prospects that you're credible and they can trust you.
Make sure that the recipient understands that you are already working to improve similar situations and have already achieved a vertical breakthrough with similar clients.
It is also essential to show that you are a market leader or a top service provider in your field.
You may share the details of your most successful work and provide intricate details of how you can provide additional benefits to the recipient and make them successful at what they do.
If you have some common connections, that will be the social proof you can offer.
Also, you can use your authority and social status which is relevant to this person so that they realize how important you are for them.
Step 7: Write with a Personal Touch
It is proved and but obvious that personalized emails receive high open rates than non-personalized ones.
Use a personal name and company name in the email body. This will make them feel that the email is targeted personally to them rather than bulk email recipients.
You should also entice the target to perform an interactive activity by offering bonuses and benefits for replying back or acting as per the terms of the delivered message.
Cold email success rates highly depend on cold email personalization tactics.
Step 8: Keep it Short and Easy
People don't have much time to read your email.
They just scan from top to bottom.
Remember, you are emailing to prospective clients who are not yet loyal to your cause.
You need to keep the email short and make it focused on only what is on offer and its relevance to the person that you are targeting.
Remember, not all your services may be relevant, and therefore, the focus of the email should always remain on how your business can help the email receiver on improving their own business or personal efforts.
Step 9: Express Appreciation
Remember, you are asking someone who does not know you for a favor.
By expressing a sense of gratitude and appreciation like "Thank you so much! I am really grateful", we are making them feel that they are good persons if they chose to help us.
Very few people do it.
Another hack here is that you can also make their way out available by saying that it's fine if they are busy in their work.
Doing this will actually make them more likely to help you.
Step 10: Don't Use a Template
If you google templates for cold emailing, you can find hundreds of cold email marketing templates.
But, a personalized email cannot come out of these templates. Most of them are designed for mass mailing and they are bound to land in the spam folder.
People find it frustrating to receive emails that have been drafted in general templates and sent to hundreds, and sometimes thousands of email addresses.
Make sure that you are customizing every email, even if you have to employ a particular template for showing off your products and services.
You should always add the title of the receiver as well as addressing them on a personal level.
This will avoid the stigma that the receiver feels regarding receiving a mass-generated email.
Step 11: Test and Measure
Cold emailing is an ongoing process.
To improve cold email open rates, you need to regularly test and filter your email campaigns.
Tweak your cold emails on the basis of the aspects such as – No. of mails opened for particular subject lines, most engagements, high clicks and when to send cold emails.
Conclusion
Cold emailing targeted to a specific audience is the efficient medium available to make new business relations.
It can be a massively beneficial tactic for those who know how to do it right.
By following above-stated rules and cold email marketing tips, one can get the prospects' attention, maintain it, automate and scale it to get better reply rates while saving valuable time.
Let's build something great together😎
Turn your ideas into reality. Get a brand design that your customers will love.
Web DesignUI UX DesignBranding Identity DesignSocial Media DesignCorporate DesignMarketing AutomationEmail MarketingContent Marketing