Whether to use Elementor Page Builder or not? Read on to find out.
Most of the users have tagged it as the best website building platform for WordPress; while some beginners say it is confusing and lacks features, what exactly is the reality of Elementor page builder?
Is it worth spending money on, or just another web creator platform?
Before we begin with the Elementor page builder review and weigh its pros and cons, let us first know what it is:
What is Elementor Builder in WordPress?
Elementor is one of the leading and the most commonly used website building platforms for WordPress.

Web developers use it to build pixel-perfect websites.

This drag-and-drop website builder plug-in for WordPress can work on any theme and enables users to create, edit and customize pages according to their needs without using codes.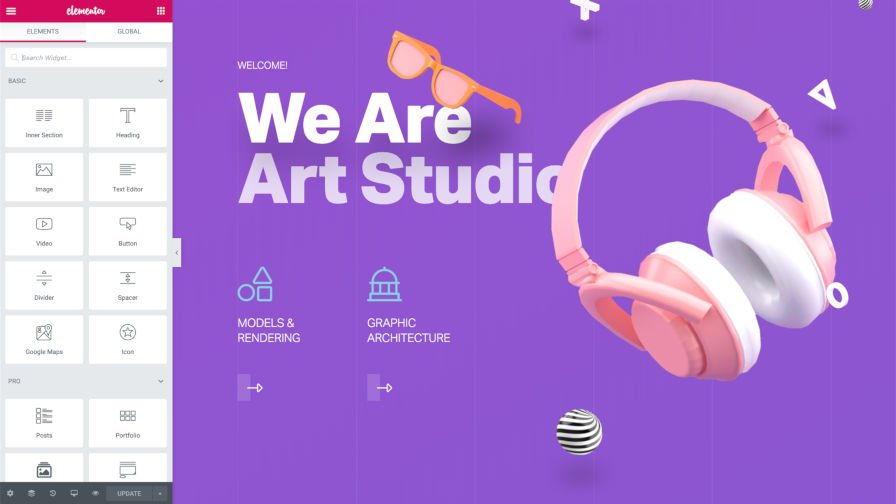 Users say it is the best website builder plug-in and creating websites is easy and total fun with it.
Here is a complete and unbiased Elementor page builder review that will let you know whether to use it or not.
Get to know what it is on its official website.
This is what You Do With Elementor Page Builder
A couple of things can be done with the Elementor page builder. If you are a beginner, you can expect to use it for:
Create original-looking pages and posts which are exclusive as well as unique and not like the ones that come with the WordPress theme.
You get a distinct interface to work on your posts and pages. WordPress comes with a standard block editor where doing bulk of the work is not possible.
WordPress Elementor does not need any knowledge of CSS/PHP/HTML etc. So, the beginners can also do it. The user-friendly interface has made it utterly easy to understand.
Moreover, since this website builder works on the front end of your website, you will be able to see the outcomes of your work easily without any special effort.
With the help of it, you can create any type of content or a page layout.
You can use your current WordPress themes and can enjoy all the goodies of Elementor. It works well with all WordPress themes.
In a nutshell, the main advantage of this drag and drop page builder is that it is user-friendly and no coding knowledge whatsoever is required for creating impressive layouts. You can create professionally designed and appealing WP sites with its help.
This visual drag and drop editor will enable you to build, edit and preview your pages in real-time.
You do not have to use coding and do not have to switch between the screens. With this page builder, you can create anything like the following:
Conventionally used pages in a website like home and about us pages.

Conversion-focused landing pages like lead magnets and upsell pages.

Pop-ups for growing your email list or promoting products and services.

You can choose to customize parts of your theme like the blog pages, site-wide footer and header, Woo commerce shop pages and a lot more.
Here is a complete and all-inclusive guide on how to use Elementor in WordPress.
Features and Pros of WordPress Elementor Website Builder
Drag and Drop Editor
Drag and Drop Editor enables beginners to simply drag, drop and customize the web pages.
They do not need any coding knowledge for the same.
It is a powerful tool and with its help, you can change color, style, theme, etc. You just need to drag and drop objects for the same.
Over 300 Designer Made Templates
Whatever your needs or industry may be, you can find the best match for you.
You can choose from more than 300 beautifully crafted templates that are designed to fit the needs of any industry.
Responsive Editing
With the help of this feature, you can adjust your websites to make them look just perfect on every screen whatever your gadgets may be.
This feature can be used on up to 7 devices.
90+ Widgets
You can expect to achieve your design goals with over 90 different types of widgets offered by Elementor.
All of your needs will be fulfilled and you will have full freedom to customise.
You Get Pixel-Perfect Designs
Everybody aims for creating pixel-perfect designs with padding, margins, custom positions, global settings, typographies and colors etc.
Elementor enables you to create pixel-perfect designs that are just flawless.
In short, WordPress Elementor gives you complete liberty to design whatever you want and also the flexibility to make the entire process of website building easier.
Here are a few more advantages of Elementor.
How the Elementor Interface Works?
Most people do not know how Elementor Interface works.
Though it is easy to use, it is better to have some idea about how exactly it works.
How is the Interface of Elementor divided?
The interface of Elementor WordPress builder is divided into the following areas:
The Content Area
Your regular theme will be outside this area and you build the design roughly along the grey dotted line.
Elements/Widgets
With the help of these widgets and elements, you can design your page, customize it or do whatever you want.
Settings
With the help of settings, you can create beautiful web pages without the use of a visual editor.
You can choose to make dynamic websites quickly with its help.
You can control every part of the website design on a single platform.
Elementor Pricing
The software has a free as well as paid version.
Free Version
With the free version of Elementor, you will be able to get access to as many as 40 basic widgets (90 widgets are available).
You can download it from the WordPress Plug-in area. All you have to do is to just look for "Elementor" and get it installed.
The free version is just sufficient and powerful but it has certain limitations. If you want to use Elementor optimally, you will have to upgrade it to the Pro Version.
Pro Version
In the Pro Version of Elementor, you will get access to as many as 50 additional widgets and access to the other widgets like a pop-up builder, theme builder, Woo Commerce builder, form builder, and a complete library of more than 300+ page Pro templates are pre-designed for building WordPress pages easier than ever before.
You will need just $49/year for a single license.
You can check the pricing with more details here.
Special Features of Elementor Website Builder
With the help of Elementor, you can design and redesign your WordPress site. It is very simple to use and you can always learn the basic Elementor features and configuration easily.
Here are a few more special features of Elementor Website Builder:
Template Library
You can create designs right from the scratch and do not need to do anything yourself.
There are a lot of templates that you can insert in just a few clicks.
EasyFinder
This feature of Elementor Website Builder is one of the most used ones.
With the help of this feature, you can find out the pages that you have made, the elements you have added, and also the editing that you have done.
All you need to do is just put your search item in the box and you will get anywhere you want.
Reusable Elements
When at the finish line, you customize a part of an element and begin to think it is not a fit, you can make use of a reusable element instead of deleting the entire page.
Background Gradients
The background gradients feature of Elementor Website Builder is used for creating unique backgrounds with radiant color combinations.
It can be used for making each page unique.
Background Videos
Adding a background video reflecting the topic of the concerned page can make it look attractive.
It is an easy process and hardly takes any time.
All you need to do is just upload the video or embed a source Url.
Add Motion Effect to Your Sites
As mentioned, with the help of WordPress Elementor you can design sites like a pro.
You can add mouse effects, parallax, and a lot of other interactions to your web designs.
Without the help of a professional, you can add motions to your site.
Cons of Elementor Page Builder
Enterprise features are limited and more additions are always desirable.

More integration with third-party plug-ins like Gravity forms is needed.

Working with template features like headers can be messy and land you up in confusion. Editing done in one place can affect the whole site.

It is slower to load as compared to the other block coding. Also, it consumes too much memory on the server. 

It needs more settings for blocks.

It also needs more in-built block templates and integration with other services.

Customer support will be provided to you only when you are using a pro-version.

The Preview could have been easier than it is currently.
To Whom Elementor is Best Suited for?
Should you use Elementor page builder in 2022 or you should not. A lot of people are impressed with this tool.
It is working pretty well with them.
It is the easiest one to use and it delivers a number of features for free.
This website builder is meant for those who are just beginners without coding knowledge who want to build appealing websites like a pro.
Elementor is also meant for those who do not want to experience the limitations of the default block editor of WordPress.

In a lot of instances, people find it difficult to put content in an aligned way, add images in a more specific way then you need WordPress Elementor.

If you are not a developer but wish to create professionally looking and appealing websites, the software is for you.
Competitors of Elementor Page Builder
Some people consider WordPress Elementor as the best drag and drop page builder.
With the popularity of WordPress, the market for page builders has grown tremendously and other page builders are launched as well.
Divi builder and Beaver builder are the main competitors of Elementor.
All of these have their own set of pros and cons.
A lot of people are also using Beaver, Elementor, and Divi and what you choose depends on your personal preferences and how you want to use it.
However, Elementor is one of the most demanded page-builders and it is significantly ahead of the others.
With the Pro-version of Elementor, you will be able to avail as much as 90% of it.
Beaver and Divi do not give you that.
Here are the top 10 alternatives and competitors of Elementor
Final Thoughts on Whether to use Elementor Page Builder
A lot of people have been using Elementor Website builder satisfactorily.
Of late, it has become one of the most sought-after tools that developers use when they need to make improvements.
Apart from that, it is the best tool for beginners who can use it even if they do not have any prior knowledge of coding.
Just to know how it works, you can get it installed right now. It is absolutely free but its pro version has more widgets and features.

If you want to use this website builder optimally, get hold of its pro version. It will be helpful for theme building, adding more elements and a lot of other helpful features.
WordPress Elementor is meant exclusively for beginners as it is very easy to use and intuitive.
As a user, you just need to understand the hierarchy and should know the content elements.
Once you are done with this, working with your pages will be the easiest thing on Earth.
There are certainly more advanced features like the following:
Experimenting with the Z-index of elements for bringing the stuff forward Vs putting it back).

Customizing the on-hover state of elements and changing their appearance according to the position of the cursor.
Though there have been complaints of site speed getting slowed down on its installation and poor customer support, it has several other pros that simply outweigh these cons.
Gutenberg is another popularly used Website builder. Using it gives you speed advantages but it is far more difficult to use than Elementor and after all how easily a page builder works is what matters the most.
Over and all, its integration capabilities, its ease of use, its functionality and its price have given it an edge over other competitors.
So, Elementor page builder in 2022 is worth investing money on.
Let's build something great together😎
Turn your ideas into reality. Get a brand design that your customers will love.
Web DesignUI UX DesignBranding Identity DesignSocial Media DesignCorporate DesignMarketing AutomationEmail MarketingContent Marketing